Let The Winter Magic Begin!
Epsilon
December has arrived and winter has taken over, painting all the nature in white (okay, not everywhere, but at least outside my window it's a deep white) and cities to a sparkling multicolour. And indeed, this day more than ever we all need a little more colour and… magic.
This December promises to be an eventful one. The fact is that several talent ZX Spectrum Game creators are already preparing their new products for release, and I'll start with one of them, which has just been released.
About RINGO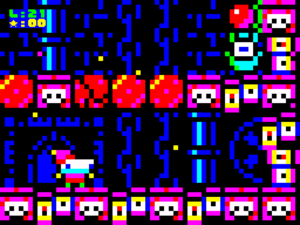 In a world not far away but hidden from human eyes live Snoogles – magical creatures who like to visit each other in the evenings and drink lingonberry tea. But in this world, light can only come from the stars. So one brave Snoogle named Ringo volunteered to gather stars for all his friends and set off on a long journey full of danger and puzzles.
This is the game RINGO from the famous developer – Denis Grachev – he is a founder of the RetroSouls team. On Denis's account there is a lot of arcade puzzles – simple at first glance, but addictive gameplay. Also these games usually implemented at the top of possibilities of classic ZX Spectrum, particularly, they all use multicolour, that's why they look very dynamic, unusual and colourful.
RINGO is no exception. In it, Denis for the first time used an experimental 64×48 graphical mode, in which each "pixel" has its own colour. Also, full-scrolling is implemented in the game, which looks very unusual.
Yes, the game runs on classic ZX Spectrum with at least 128 Kb of memory, but it also runs fine on ZX Spectrum Next (we checked it!). ZX Spectrum clones with non-standard timings like Pentagon are not (yet?) supported, but you can play it in our online emulator.
Add to that some great music tracks from N1k-O, changing from stage to stage, and you get an excellent game for stretching your fingers and racking your brain on a cold winter evening by the fireplace. By the way, if you have not quite grown kids – show them the game, it's going great!
You can get the game now – but don't rush, let's finish this longread first.
About the New Emulator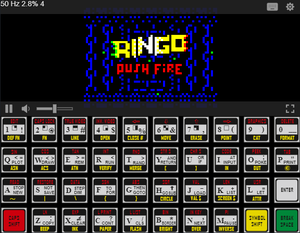 By the way, we've updated the built-in online emulator. This version is much faster, supports both classic and clone timings, full-screen capable, and even works on mobile devices. Although for a comfortable touch screen playing it still needs some work, but that's a question of time. New emulator works with RINGO only at the moment.
About the Rating System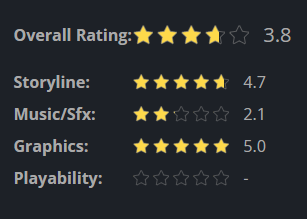 Feedback is very important for the authors – after all, it lets them make games better and sharpen their skills, but how not to turn the game page into a trash clownery?
We spent a lot of time thinking and doing, and finally we finished our rating system for ZXOnline. What is it? Every time you play the game, you can now leave your short review of the game – your thoughts, what you liked, what you disliked and, of course, rate the game by several criteria.
All reviews will be publicly available and an average rating will be calculated from the scores you placed.
To leave a review, simply buy the game and play it for a while. In order to protect the free games from spam and cheating, we have implemented some restrictions – only game sponsors, i.e. the players who have donated money to the game, may leave reviews.
About Unitpay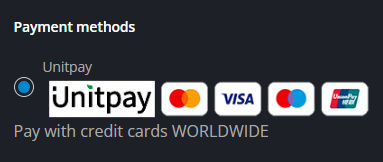 Now alongside the Advcash payment system (which asks for a lot of personal details when registering, and therefore isn't popular), we've added Unitpay – a new payment system that accepts both European and Russian credit cards, and so allows you to buy physical versions of games from EU countries, and avoid the 10% fee on Paypal in any countries. If you've been wanting to order physical edition for a long time but couldn't, give it a try now. It should work well. Unitpay doesn't require registration, just enter your plastic card number, it's like any other normal payment system.
Phew, I think that's it. It's a bit long today. But it's all for you, friends, and for our beloved Speccy.
We look forward to more releases! And by the way, thank YOU for reading to the end.