Street Fighter 2 Update and New Otter Adventures
Epsilon
Not much news today, but it's interesting 🙂
Let's start with the update 1.1 for Street Fighter 2, the TS Config version of which was developed by the ZX Evolution team. In this update, the "bug" with the ability to kill any opponent using hooks has been fixed. Now it won't work so easily.
Also, the updated version added the ability to select difficulty level in the game menu. You can choose between very easy (Easy) and moderately difficult (Normal) modes.
Additionally, a new game situation "draw" has been introduced. The essence of the situation is that if at the end of the round the amount of energy is equal, then this round will have to be replayed – no one wins.
The team has also announced a special bonus for those who have bought the game for money. After some time between these lucky ones will be raffled off a few exclusive versions of the game, which among other things will be implemented a new game mode. This version of the game will be delivered to each person personally by Email and will not be available to the public. It's not too late to participate.
About new games
Also the ZX Evolution team decided to please all of us with news of new games, some of which are in testing phase and will be released next month. So, what are these games? Three of them, imagine!
"The Otter Named Komino" is an RPG-style game with top/front view – full color game for classic ZX Spectrum 128, we got a whole bunch of screenshots from the game, but we'll publish only one 🙂 According to the authors, the game is "almost ready".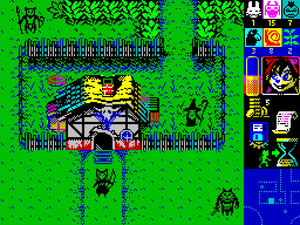 "The Land of Rustles" is a side-scrolling adventure quest for the TS Config platform and is a logical sequel to "The Land of Rustles: Otter and Smoker". No information about the game's readiness yet, no screenshots have passed me by either ))
"Iron Crisis" is the working title of a new game in the Realtime Strategy (RTS) genre, apparently the game will be released in mono format for classic machines, but will require a turbo mode. That's all that's known about it so far.
By the way, if you want to follow (and maybe even participate in) the development of these games, check out the team's official Boosty page. There you can read first-hand news and support the guys morally and financially.
About Support
By the way, I have a page for financial support too 🙂
From the very first line of ZXOnline's code, this service has been working for the benefit of game developers, that's why all money from game purchases (minus obligatory money transfers and taxes) go directly to game authors – I don't keep anything for myself.
That's why I created my own Boosty page, where you can support me personally. Small financial motivation will allow me to spend more time on development of ZXOnline and other ZX Spectrum-related services (I have plenty of ideas, I will share them all there later). Thanks in advance!
That's all for now, friend. Have a nice weekends!