Description
Reviews (1)
Additional Materials
Update the SD Card
Description
The physical version of the most anticipated game of recent years for the ZX Spectrum and ZX Spectrum Next. With this Collector's Edition, you get access to the digital version and premium content on your SD card.
This bundle includes:
SD card with all versions of the game (for ZX Spectrum Classic, ZX Spectrum Next, and Windows, versions in English, Russian, Spanish, and Polish languages) and additional premium content
Colour insert with a description of the game and colour illustrations
DVD-format plastic box
Two A3-sized colour posters
The digital version and the ZXOnline license are included in the bundle, you do not need to purchase them additionally. After purchase, you can download the files and play right away, while the collector's edition is coming to you!
We know that many of you have difficulty completing a level with Jacqueline. So by lots of requests, we are posting a map of this level!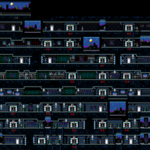 Click the image to enlarge! Also, you can select «Save image as…» on the image to download a full-resolution file.
The authors periodically update the game files as they find and fix bugs or add new features based on user feedback. Therefore, the copy of the game on your physical version's SD card may be out of date.
How do I find the current version number?
The version number can be found by the date in the file name of the TRD and SNX files recorded on the SD card.
25.12.20 — corresponds to version 1.0
02.01.21 — version 1.1
22.01.21 — version 1.2
Upgrade to the latest version
In order to update your SD card to the current version, you need to do the following:
Go to the page for the digital version of the game and download the «DS Updater Pack»
Insert SD card into the card reader
Execute the DS Updater Pack application
In the program interface, in the «Updating SD card» block, specify the letter of the card reader device into which the card with the game is inserted
Click the «Update» button and wait for the update process to complete.
Done!
Your current game progress will be saved.