Important Information: The DLC game "Guns & Gears" is now included in the main game pack of version v1.5. Please download the main pack to get "Guns & Gears" or "DS Update Pack 1.5" if you already played Delta's Shadow and want to save the game progress. The DEMO archive does NOT include "Guns & Gears".
"Delta's Shadow" is an action platformer inspired by the series "Power Blade" for the NES. Playing as a secret agent Nova and his partner Jacqueline, you will have to plunge into the gloomy atmosphere of the game and fight deadly combat machines and aliens.
Transnational corporation Trigon continues the Delta Foundation job and prepares a new alien invasion. "Delta's shadow" features more than 20 music tracks, lots of technological locations, stealth, and racing levels.
Destroy the Trigon Corporation and save the Earth from the aliens' threat!
This game also includes the additional short game called "Guns & Gears". You can read about it in the "DLC" paragraph below.
Controls
The game supports a keyboard and an 8-button joystick. Initially, key controls defined like this:
W, A, S, D – Up, Left, Down, Right,
B – Fire,
N – Jump,
M – Change the suit,
P – Game pause
Also you can redefine keys in the start menu.
DLC (Downloadable Content)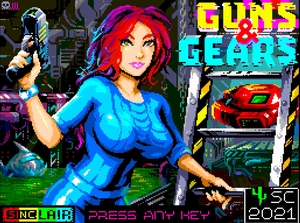 The official DLC is called "Guns & Gears" and it represents a little game that is a prequel to Delta's Shadow. The events of the game take place 7 years before the events in Delta's Shadow and its plot complements a plot of Delta's Shadow and PowerBlade 2 (NES version). This DLC is free for all who got an official digital license to the main game.
Updates
You have the option to update the game while maintaining game progress. To do this, download a special file for Windows (DS Update pack), place it in the game folder and run. After the progress bar is filled, the files of your copy of the game will be updated.
If saving game progress is not required, just download the new version of the game.
Authors
Program code, Level design, plot –


Alexander Udotov (Sanchez)

General idea, plot, music & graphics assistance, Eng. translation –


Evgeniy Suhomlin (Sinc LAIR)

Graphics, animations, plot –


Evgeniy Rogulin (ER)

Music & sounds –


Oleg Nikitin (nik-o)